Journal 3

2004



Added 04/04/2004
Donna is taking the update off so, Kevin's here!!
Ya, we know, it's been a while, but we have been very busy!!! Back in February, our landlord told us that he was selling our house and that we had to be out by 04/01. So, we have been house hunting. We must have looked at 50 house! We found one over in Willowick. It has been slow going but we should get the keys very soon. Our close date is 04/15. The house has some problems to overcome. First off, the electrical. The man that used to live there must have missed the episode of This Old House where they discussed electricity. I swear it looks like something Bob Vila would do! Here is an example for your viewing pleasure.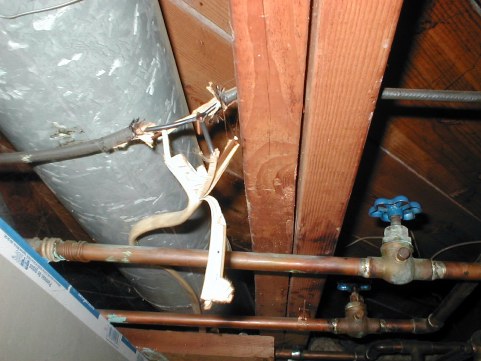 No, it's not supposed to look this way! Also, the guy put in an outside outlet, backwards. He ran the hot wire to the neutral bar and the neutral to the breaker! In layman's terms, that's very, very bad! The owners have had the electric repaired.
There are still a couple of unresolved matters (which I cannot speak about because our real estate agent threatened me within an inch of my life, love you Peg!) that should be taken care of early next week, then the paperwork signing begins. I pray that there won't be anymore addendum to the extension to the exclusion to the exception to the contract's to worry about.
So, everything we own is now packed and we're waiting on the keys.
Other things going on....
We are gearing up for the 2004 Relay For Life. The team is set and we are collecting donations.

Added 12/04/2004
Well, here we are wrapping up another year. Sorry it has been so long since we have updated the page, but there really hasn't been much going on. Yesterday, Katie went in for her monthly checkup. She got an A+++ on her blood test. They are so pleased with her progress that she doesn't need to go back for three months!!! We are finally going to be able to save up some vacation time! We haven't had one since 2000.
Since we last updated, Katie has started in a new school. She just got her report card and she receive all B's. Good Job, Katie!! On the third day of school, she fell off a peice of playground equipment and broke her ankle. She is better now.
We have been in our new house since 04/15. We have a lot of work to do, but at least it's on our own home!! You can see the house on our sister site at
http://newhouseoh.tripod.com
. As we do things to the house, we are putting the updates on that site.
We are looking forward to Christmas. The girls are getting very excited. We have put up the outside lights and will be getting the tree next weekend. I ask that you please remember that Jesus is the reason for the season.


Added 01/15/2005
Well howdy everyone. I'm so sorry it's been so long since my last post. Really not too much has gone on since I last wrote to y'all. Well let's see where did we leave off. Oh yeah, we were talking about the upcoming Christmas season. On the last day of school (Wednesday the 22nd) Katie woke up throwing up. She had the stomach flew and missed the last day of school and her Christmas party. So she was bummed about that. I knew however that that meant that the rest of us were gonna get it and that we would probably get it for Christmas. So right on cue, Christmas Eve morning (I had to work 9-3), I was brushing my teeth thinking "I'm not feeling so well, I'm getting what Katie had". When I got out of the bathroom, Kevin told me that Alyssa was downstairs throwing up. Well I went to work and only did one haircut and came home. I was out for the rest of the day. Before the day was over Kevin had it too. So now that was 3 of us fighting over the main floor bathroom. We were all better by Christmas, just worn out, but we made it through the day.
Alyssa tried out for the basketball team and made it. She is really looking forward to playing. I think (I think) her position is Center. She is really tall. She's about 5'9. She is taller than I am. I have to look up to her to scold her. LOL She is doing really well though. She has lost about 20 lbs since the summer and is still working on it. Being tall will help hide the fact she is a little over weight. However she will slim down playing basketball.
Katie, on her last visit, was kinda threatened to loose some weight or they are gonna send her to a dietician. So we are all now on the quest to loose some weight. We are cutting back on our portions and trying to eat a little better. We are gonna try to do some exercising as well. I have an exercise bike that I can use to help me in my fight to be thin.
About 2 or 3 weeks before Christmas, Kevin's mom had a very small stroke. She was in the hospital for about 3 days. She is better now and is back to driving, however she tires out very easily. But she's getting there. She had a lot of people praying for her. She had her stroke about the same time as Dick Clark.
My job is going good. I'm still liking it, and it pays much better than my last job. We are getting caught up on our bills and now trying to start paying some off. That will be very helpful. We are also gonna be making a trip to Texas to see my family in April. We are gonna be there from the 9th to the 16th. We are so excited. The girls are really excited. We can hardly wait. It's gonna be the longest 3 months of our lives. LOL But it will really be here before we know it.
Well that's all I have to report for now. Thanks again for y'alls continued love, prayers, and support.
Love,
Kevin, Donna, Alyssa, and Katie<><

To Be Continued...soon